Best Hikes in Ouray, Colorado
Location: Southwest Colorado
On Highway 550, 35 miles south of Montrose, CO and 70 miles north of Durango, CO.
---
Ouray's close proximity to some of the regions great hikes makes the pretty little Victorian town a perfect base camp for outdoor enthusiasts...
View Ouray Info
Introduction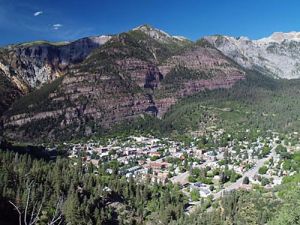 Ouray (7,746-ft.) is a pretty little Victorian mountain town nestled beneath a dramatic granite amphitheater and surrounded by 12,000-ft. plus peaks. A variety of accommodations and services along with its close proximity to some of the regions great hikes makes the town a perfect base camp for outdoor enthusiasts.
The town is located in the heart of the Uncompahgre National Forest in southwest Colorado, 35 miles south of Montrose and 70 miles north of Durango, CO on Highway 550. Distinctive Mt. Sneffels (14,150-ft.), rising to the west of town, is the center piece of the 16,500-acre Mt. Sneffels Wilderness. Northeast of Ouray is the 99,000-acre Uncompaghre Wilderness, home to two 14ers, Wetterhorn Peak (14,015-ft.) and Uncompahgre Peak (14,309-ft.) along with numerous peaks over 13,000-ft.
Ouray Hiking Trails
View Hikes by Area:
Southwest ColoradoOurayTellurideSilvertonLake City
Support our Site
Buy the Book

This opinionated guide includes all the hikes in the Ouray, Telluride, Silverton and Lake City sections of the website plus info on local services and nearby attractions.
Around Town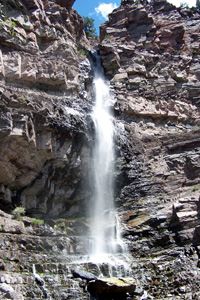 During the day Ouray (pronounced "you-ray" by the locals) is a popular stop for sightseers driving the San Juan Skyway, a stunning 233-mile loop that crosses four high passes and connects Ouray to Silverton, Durango, Cortez, and Telluride (going clockwise around the loop). The Skyway's steady stream of tourists helps support a good selection of restaurants, bars and breweries along with a range of accommodations that includes condos, cabins and vacations rentals, B&B's, hotels/motels and campground/RV parks.
By 4pm the day trippers plying the scenic byways disappear and the town takes on a more laid back, family atmosphere. Be sure to spend at least one of your evenings strolling Ouray's back streets admiring the beautifully restored Victorian architecture. The entire town is listed on the National Register of Historic Districts and most of its structures, built between 1880 and 1900 during the area's mining boom, are still standing.
My favorite place in town is Ouray's Hot Springs. After a hard day of hiking nothing is better than soaking in the pools fed by natural hot springs while admiring the red sandstone and granite cliffs towering above town. The facility is configured into different pools ranging in temperature from 96-105 degrees and includes a cooler lap swimming section, diving area and kiddie wading pool. The adjacent park is a nice place for a picnic. The Ouray Visitor Center is located next to the facility.
A short walk in town to the end of east 8th Avenue will take you to the base of Cascade Falls, the lowest segment of a series of seven waterfalls draining snowmelt from the peaks above town. Box Canyon Waterfalls and Park, located on CR 361 off Highway 550 just south of Ouray, is an interesting geological formation featuring a 285-ft. waterfall plummeting through a narrow box canyon. It is worth the entrance fee and the hour or so spent viewing the formation and walking the three interpretive trails. Another nice walk is the Uncompahgre River trail, which starts on the west side of town just north of the Hot Springs and meanders along the river to Ouray's northern border.
The Ouray Perimeter Trail is a good option for visitors looking for a longer walk. The 5.9 mile trail, which can be accessed from several spots around town, visits Cascade Falls, the Baby Bathtubs and crosses over Canyon Creek's spectacular gorge. Along the way enjoy great views of Mt. Abrams, Hayden Mountain, Whitehouse Mountain, Twin Peaks and the Amphitheater. An optional detour includes a visit to Box Canyon Park. A map and additional information about the Perimeter Trail is available at the Ouray Visitor Center.
Nearby Attractions
There is plenty to do around Ouray if you decide to take a day off from hiking. Most people drive the Million Dollar Highway, the 24 mile section of the San Juan Skyway between Ouray and Silverton. The route travels by jaw dropping scenery littered with mining relics and climbs over 11,018-ft. Red Mountain Pass. A full day needs to be allocated to drive the entire San Juan Skyway. This trip is better done as part of an extended trip with overnight stops in Silverton and Telluride.
Another interesting diversion is a trip to one of the area's ghost towns. A few are accessible with a passenger vehicle but most require a 4WD (tours are available). The Ouray Visitor Center located by the Hot Springs has a complete list of the options along with directions and recommendations.
Those with a 4WD and taste for adventure may want to drive the area's famous backcountry roads. Yankee Boy Basin, to the southwest of town, provides opportunities to visit several ghost towns, view beautiful Twin Falls and, during late July/early August, see spectacular displays of wildflowers. The Alpine Loop is another popular route leading over 12,000-ft passes to the Lake City and back. Be sure to check with the local tourism office about road conditions and the skill level required to drive each of the routes.
A tour of the Bachelors Syracuse Mine is a good option for a rainy day. (See also Old Hundred Gold Mine Tour outside of Silverton.) A guide with experience working the mine takes visitors 1,800 feet horizontally into Gold Hill to a work area used to extract the silver and other minerals. The tour includes a complete presentation of the equipment and techniques used to extract the ore.
Food, Lodging and Services
Just about all the basic services you need are found along Main Street, a six block section of Highway 550 running through the center of town. The Ouray Visitor Center, open 7 days a week during the summer, is located at 1230 Main Street, next to the Hot Springs Pool. The Ouray Visitor website includes lists of area accommodations, restaurants, bars and breweries.
The Ouray Grocery, a small grocery at 621 Main Street, offers the basics for making a meal. Those looking for a wider selection should travel 11 miles north to the Ridgway Mountain Market (490 Sherman St, Ridgway) or purchase groceries in Montrose or Durango. Coffee along with a great selection of chocolates is available at Mouse's Chocolates and Coffee (520 Main Street). Ouray Mountain Sports (732 Main St.) stocks clothing and gear for climbers and hikers. A surprisingly good selection of maps, guides and leisure reading material can be found at Buckskin Booksellers at 505 Main St.